November 17, 2023
TEIJA Women - Alice Hopkins from Orn-Kuu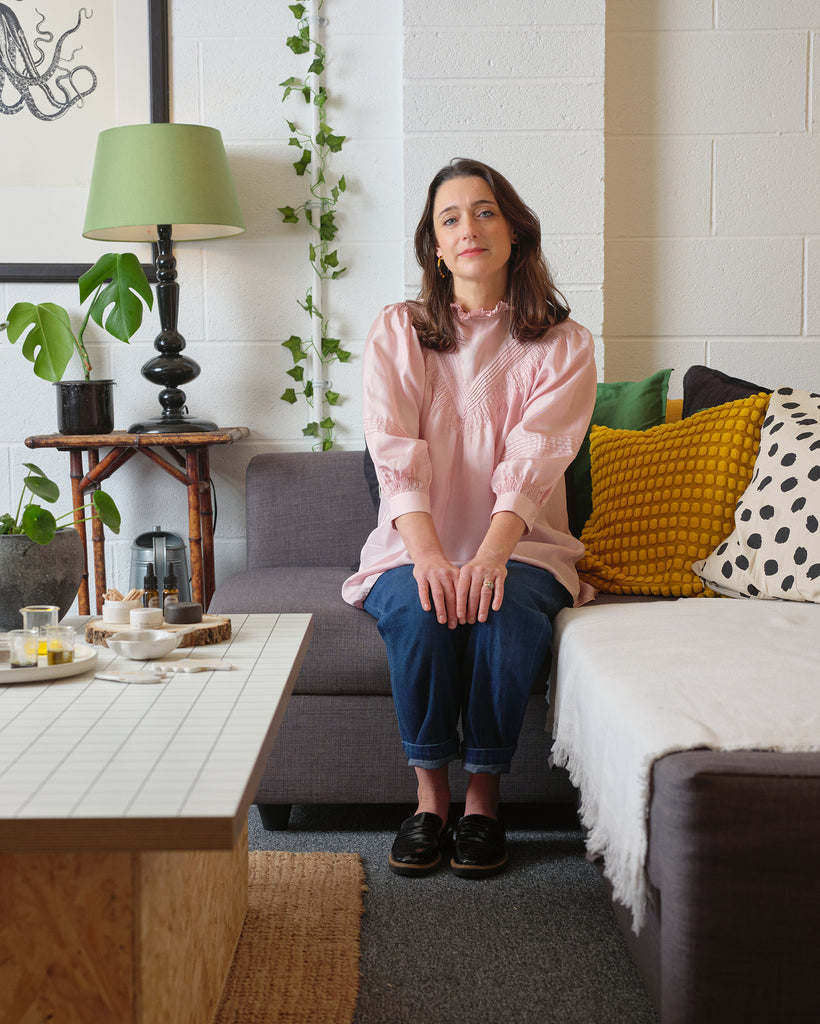 Teija Women is a regular feature, bringing you interviews with the creative women and female founders who inspire us. We look at how they wear their favourite Teija pieces and how they weave style into their creative practice. 
This month we meet Make-Up Artist Alice Hopkins in Cornwall. Alice is a founder of all natural cosmetics brand Orn-Kuu and works on TV and film sets.
Tell us a bit about your business; when did you start it and what inspired you to start your business? 
Õrn Kuu means 'gentle moon' in Estonian. The moon represents the rhythm of time and the name is dedicated to my heritage. The moon also reminds us that we live surrounded by natural cycles. I formulate natural, slow, multi-tasking skincare without fragrance allergens in eco-friendly packaging, circular by design. 
Offering restorative eco-luxe beauty products and created for sensitive, allergy prone skin, the range aims to help replenish the skin's microbiome and support our natural biodiversity. Forest and meadow inspired and prepared only in small batches, using ethically, carefully sourced organic, upcycled and wild harvested ingredients. Always cruelty free and suitable for vegans.
I launched the business in 2021 after studying to become a certified organic skincare formulator. My inspiration comes from my own skin struggles, having had eczema since a baby. I wanted to find a way to enjoy luxury skincare, to make the skin feel comforted and protected as part of a beautiful ritual, instead of looking at applying creams as a chore and out of necessity. When our skin feels cared for, our mind follows and we can feel confident again. It's about activating the parasympathetic nervous system through gentle and mindful shifts in our daily rituals.
What has been your biggest success / win so far? 
Winning awards for each of the products in their first few months of release was pretty amazing, plus being featured in British Vogue and Tatler beauty campaigns. I also just recently launched a wellness studio which serves as both a bricks and mortar store as well as a space for holding wellness workshops plus a treatment room. It's so exciting to have a calm, beautiful space for people to enjoy.
What challenges have you faced?
It's always a challenge as a small business owner, although the challenges help me to grow further. One of the biggest challenges has been starting up a business during the pandemic, adapting to new ways of working. 
Also my brand is born from a passion of making and creating skincare for others which generates real meaning and connection to ourselves and with nature. It's a competitive industry out there and can be a challenge to be heard amongst the big companies.  
What does style mean to you? 
My brand is incredibly visual, so style plays a big part in the product creation. Style to me means incorporating all the senses, the feelings, ideas, shapes, colours, textures, scents and curating them into a physical product. 
The composition of the elements is key, every piece is incredibly tactile and pleasing to the eye and to the touch.
What part does fashion / style play in your business and/or for you as a founder? 
Fashion and style play a big part of the business overall. Being the founder of the brand I use style in the same way I present my products, with a sense of warmth, peace and trust. Natural textures, flowing lines, colour simplicity.
What is your favourite piece from the Teija collection and why? 
The Pihla Silk Blouse in white is my absolute favourite. I'm so drawn to it, in particular I just love the fine smocking detail around the collar, shoulders and cuffs. It's a true timeless piece, effortlessly elegant, delicate and works with everything you pair with it. I'm a huge fan of white blouses, with quite a collection from around the world, this one is definitely my new favourite!